Don't just live with the facial PAIN!
These grateful patients are thrilled they didn't!

April 1, 2013
Once again, I would like to thank your family for taking care of me on Friday. I didn't feel like I drove all the way from Chicago after meeting you guys. You guys are excellent. You spent quality of time with me in explaining each and everything which is really great thing to appreciate. I have seen lot of doctors in the past. Never met dedicated doctors like your family. I wish you all very happy healthy life so that you can treat more patients like me.
Thanks
,
M.M.
Chicago, IL

September 17, 2012
Dr. Ernest saved my life in treating me. I suffered for 10 years in chronic pain throughout my twenties, which became severely debilitating through the years. After seeing over 15 healthcare providers regarding my situation and receiving failed treatments, I thought I was going to have to live in pain forever. Dr. Ernest treated me for temporal tendinitis, and thankfully I'm no longer in the pain I was in. Flying out to see him and Cynthia was the best decision; not only was an extremely successful surgery performed, but also they treated me with compassion and educated me about the effects of chronic pain. The difference this has made in my life and in my abilities is truly a miracle, I am so grateful.
--
Erica F.
Portland, OR

May 1, 2012
Dear Dr. Ernest,

I thank you and your wife Cynthia for all the time you spent with me. Your compassion, knowledge and understanding of pain and how destructive it can be is truly a gift from God. You are the first Dr. to really listen to me and understand. Before seeing you I had been to seven dentists, five ENT's, three neurologist beside going to the ER several times , Chiropractors the list is long and not one of them understood what I was telling them or helped me. I was on an endless cycle of pills

You are truly special and I thank God that I was led to your website. My temporal Headaches where unbearable and thanks to the time you spent listening to me your diagnosis of Temporal Headaches was correct. The R.F. has been a success. My temporal Headaches are gone. I am feeling so much better and the R.F was not difficult to heal from I took Advil the first day after the procedure and that was it . I cannot say thank you enough.

Respectfully yours,

Diane D.
Tampa, Fl.

December, 2011
Wanted to let you both know that since I was treated on October 28 I have not had any Ernest Syndrome pain! I thank God that He led me to your clinic, not only for the treatment, but for allowing me to meet you both. Thank you from the bottom of my heart. I will never forget my amazing visit. May God continue to bless you and your family. Merry Christmas!
Sincerely,
Jennifer N.
Indiana

December 16, 2011
You and your sweet wife, Cynthia, deserve a million hugs and a stream of thank you's for the way you listen and take my illness seriously, even the smallest of my concerns. Thank you!
It occurs to me that if you consistently do this for me, I know you are doing it for others as well, so I think you may need to hear that you are doing a great job, you are meeting and dealing with your patient's needs and (best of all) you are a healing physician (along with working with the only Healing Physician - God) - not just a doctor! Thank you for making a difference in my life as I struggled with much pain. We love both of you so much.
P.S. I am 75-80% improved!
Love, Vonda S.
Alabama

Date: Fri, July 15, 2011 4:10 pm
To: info@ernestclinic.com

I was diagnosed with Eagle Syndrome in 2004 and had the right elongated styloid process shortened. However, this surgery did not relieve pain symptoms in the region of the stylomandibular ligament. As time passed, my pain levels increased and the region of pain expanded to include my jaw, cheek, eyes, teeth, and throat (there was a feeling of something foreign in my throat that presented difficulty swallowing), As a result, for the next 10 years, I was evaluated and often treated for TMJ, trigeminal neuralgia, thoracic outlet syndrome, omohyoid syndrome, and sinus conditions. Ultimately my condition was generalized to a Complex Pain Syndrome and I was prescribed ongoing pain medication which was helpful but did not address the underlying problem.

Not one to give up easily, I found Dr. Edwin Ernest's website. I was fascinated - my symptoms were perfectly described! And better yet - there was a treatment! In 2011 my partner and I made an appointment to see Dr. Ernest at his office in Sevierville, Tennessee. After a series of careful and comprehensive diagnostic sessions, Dr. Ernest diagnosed me with temporal tendonitis. I was treated with the RF procedure and the pain in my jaw, cheek, eyes, and teeth were virtually gone! Dr. Ernest advised that the pain in the stylomandibular ligament may or may not go away with the specific treatment he performed.

Several months later I am still pain free with occasional flare-ups in the stylomandibular area. If the pain persists my intent is to see Dr. Ernest next year to address the stylomandibular pain area (which, on the website, is referred to as Ernest Syndrome).

The kindhearted, humorous,Dr. Edwin Ernest and his lovely wife Cynthia were a pleasure to meet. We were treated like family. If you are having facial pain, you may save yourself time and energy (for me 10 years!) and make an appointment with Dr. Ernest. He will professionally assess your symptoms and candidly discuss whether his treatments will be beneficial to you or not.

Thank you so much Dr. Ernest!
Stephen C.
Oregon

I am so grateful for the treatment I have received from you for my injuries resulting from my auto accident. As you are aware, I suffered for over three years from an unusual pain pattern which was unresolved by pain medicine, physical therapy, acupuncture, spinal injections and finally surgery. My case was perplexing to the medical community. I had been seen by over twelve different doctors of various specialties who were unable to resolve my suffering. There were no "normal" reasons for my different pain pattern. Doctors suggested that perhaps the pain was being generated in my mind, and going to my face, teeth, and jaw. My only options left were Botox injections which offered little relief and pain medicines which greatly affected my life. I did not know what else to do; I had exhausted conventional therapies with little relief.
I sought the counsel of my friends who prayed with me to get delivered of this pain. It was God who directed my steps to treatment at your location. It was after this prayer that I came in contact with you. After I presented the possibility of treatment to my doctor, he recommended my referral for treatment by you. I cannot describe effectually the relief that I experienced with your very first diagnosis. I literally wept in your examine room, relieved to experience a release from the grip of pain for the first time in years. The sense of assurance that came from getting relief by your treatment provided me with the assurance that I was not imagining my pain, as some doctors had suggested.
My treatment has been complex due to the nature of my injuries. I have experienced relief when each different injury site has been treated. I look forward to the complete resolution of pain.
You and your wife, Cynthia, are wonderful people. I thank God for the deliverance I have received under your direction. God truly has worked within you to heal me. Thank you and God Bless you richly in the name of our Lord and Savior, Jesus Christ!
Sincerely,
Michael E. D.
Virgina

February 10, 2010
Dear Dr Ernest and Cynthia,
This note of gratitude to you is a couple of months overdue. My only excuse is that for the first time in well over 10 years I am "living life" and making up for every second lost!!
I have lived a very active, adventurous life. I have traveled extensively, worked in some challenging but rewarding positions and generally enjoyed my journey. A little over 14 years ago I woke up one morning to find the left side of my body paralyzed. Having suffered migraine headaches all of my adult life, I put it down to stress and "a really bad migraine". It took over a month for the paralysis to subside, but the one side of my face never recovered. My doctor told me I "probably" had Bells Palsy, gave me a few vitamin B injections and told me "you're stressed, your mother has recently died – get on with your life". Which I did. About a year later I had to see a doctor for what I thought was an eye infection, and was told they would have to remove my eye as the cornea was totally ulcerated. Wow!!! That was a shock!! Thanks to a great friend who made a few phone calls, I was seeing an ENT Professor the very next day – who said I had had Gillian Barre Syndrome, was incredibly lucky to be out of a wheel chair and "yes", I would lose the eye if something wasn't done immediately. Two days later I had what would be the first of 5 reconstructive surgeries to date. And so begins the course that would alter my life forever.
As I mentioned, I have had numerous surgeries to save my eye or to reconstruct what atrophy was doing to my facial muscles. But no-one could help with the pain. Gradually the pain got worse and worse – from several days of the week, to every day to every second of every day. I found myself withdrawing from society and daily life more and more. My pain got so bad that at times I could not physically stand to even move my head, spending hours on a cold bathroom floor because I was vomiting so often I had no strength to get back to bed, often wondering how my body could produce such intense, mind numbing, debilitating pain and make it through another day. I was put onto every kind of medication and "cocktail" of medications possible as doctors just did not know what to do with me. I saw neurologists, pain management specialists, even psychologists – I was told that I was "imagining" the pain; that I was "depressed" rather than in pain. I was told I was "using" pain to my advantage; that I would get 'good days and bad days' which I needed to accept; maybe if I exercised more………? Everything was so hurtful and so against my character, I started to question my own sanity.
I was seeing a chiropractor and physical therapist weekly. I was having massage and getting regular trigger point injections to try and ease the pain and muscle spasm – but still the pain was a constant in my life. I knew too, that I was running out of options.
The TMJ specialist I was seeing, and who had done more to help me than anyone to date was the reason I found you. Within 48 hours of reading your website I had an appointment to see you.
The first day my husband and I spent with you and Cynthia gave us hope for the first time in many, many years. You educated us and gave us a greater understanding on the effects chronic pain has on one's body, life and relationships. You asked questions no one had asked before and spent a great deal of time going over our options with us. You put trust back into our lives. You had diagnosed both Temporal Tendonitis and Splenius Capitus Muscle Syndrome and we decided on a course of action.
The night prior to my first procedure was possibly one of the worst nights of pain ever. I knew I could not take much more and my husband had gone through enough anxiety and heartache too. We saw you late the following day – and to this day find it hard to believe that a couple of hours after my first procedure we were enjoying a lobster dinner together – and I was free of pain!!!!!!!!!! It was amazing – miraculous even!! I almost felt like an alien in someone else's body – but it was a great feeling.
You and Cynthia both kept in very regular contact with me in the weeks afterwards. I was feeling good, but still experiencing pain. So about 2 months later we were back – and you did another 3 areas on my head and jaw. Dr Ernest after that second visit you truly gave me my life back. It has been a little over 4 months since that second visit with you and I have made a trip to Australia to visit family, had a house full of family here over Christmas, spent a week with them doing Disney World, and made a quick trip to South Africa!!! Even my wonderful husband is finding it difficult to keep up with me J
Today I celebrate the fact that I am living a normal life once again. From the long list of all the medications I had been placed on by doctors I am now taking just 3 (muscle relaxant, anti-inflammatory and less than half the original anti-seizure dosage) and enjoy more mental clarity daily. I do still experience some pain, which I am able to manage and control very quickly. I am also aware that my facial paralysis is a given, that in itself will be the cause of some complications along the way. But from where I've come from, nothing scares me.
My TMJ specialist here has also never given up on me. She suggested I start some acupuncture to address the deep seated inflammation that years of chronic pain brings about, which I have done. I have had 4 treatments, over a 4 week period, and made huge strides. I go for days and days without experiencing any pain what so ever. I also had my regular annual "check up" with my neurologist recently. As soon as he saw me he did a double take - "You look a whole lot better! Have you had another surgery?" Life is just so good!!
My husband and I now have a life we can look forward to. We are able to make plans and set dinner dates with friends, to book vacations months in advance without the uncertainty of whether or not I would be able to make it. Dr Ernest it is very difficult to express the depth of gratitude I have for what you were able to do for me. Both you and Cynthia are such compassionate and genuine people, and so dedicated to your patients and their pain issues. Your constant calls to check up on my progress have meant the world to both my husband and I – you have both touched our lives in a profound way.
With our sincerest thanks and love to you both,
Cathy W
Memphis TN

August 12, 2009
Dear Dr. Ernest.
I am writing to say thank you for years pain free. I came many years ago all alone after three years of suffering, to Montgomery, Alabama and a hoping for a miracle. It came in through your hands. You see, I was in a rear end collision at a stop sign, and since I was on an off ramp I was leaning forward to check for oncoming traffic. My jaw bone hit the steering wheel, The car was relatively undamaged but the head ache started immediately and my neck in front turned completely black and blue. I was placed in traction, and every time the head gear went on my vision blurred and I would rip it off and start vomiting, my jaw started falling when I was talking and over the next several years I broke 3 molars and bit my tongue and cheek numerous times. The headaches were so bad I thought I must have had a brain tumor. I would vomit nearly every day from the pain, my children were little and I couldn't play with them, couldn't work and I grew very depressed. I remember my 5 year old saying " Oh no, Mama, not again!" as I lay vomiting in bed.
My dentist that I found was a great patient advocate, helping me understand just what I had. TMJ and Ernest Syndrome. and if I could get to Montgomery Alabama to see Dr Ernest I would see remarkable changes. After trying anesthetics that lasted about 2 hours ( even 2 hours is a great relief when 24/7 pain is there) I finally made it to Alabama.
Dr Ernest and his staff were wonderful. I'll admit I was scared but I was ready for anything. I had about 12 hours of extreme pain after the Radio Frequency treatment, but then nothing.....IT WAS GONE!!! I was cautious but IT WAS GONE. The first time I got a headache about a month later I said here we go again but 2 Tylenol and a rest took it away! I was suddenly like everyone else. My son who was 3 at the time of the accident is now turning 27. I am a grandmother and I have returned to college to become an RN. I am running with the young kids and keeping my 4.0 grade average. Life is good.
Thank you Dr. Ernest, Thank God there were people put in place to lead me to find you.
From the bottom of my heart I pray for you and your staff often.
Most gratefully,
Marilyn Soltis B.

July 20, 2008
Dr. Ernest and Cynthia,
The first 24 years of my life were filled with happiness, friends, and adventure. The last 12 years have been filled with depression, avoidance, and the most excruciating and debilitating pain I could imagine. I spent 12 years with 25 different doctors and spent countless dollars trying to find a diagnosis and treatment for my pain. Before meeting both Dr. Shankland and you, I was closer to ending it all than I care to admit. Temporal tendonitis and splenius capititis had a hold on me and had enveloped me into a prison of pain and suffering. Simply put, I had no real existence.

Even though I am one of those more challenging patients due to a combination of injuries and bruxing, you never gave up on me. To put into words how much that means to me and my family is impossible. So many doctors and even friends had given up on me and were convinced the pain was all in my head. To hear someone of your experience and stature say that it is not my fault gave me the courage to fight for a better tomorrow.

Both RF procedures were a success and as I have stated many times it seems like I am coming out of a coma. But, for someone who has been in pain for 12 years, it is the personal relationship, the hug, the understanding, the care, and the ability to listen that means the most in my progress. I still have some pain associated with my bruxing, but both the splint and learning how to let go of the fear associated with chronic pain will allow the tension to release eventually.

I am about 85% better than I was a few months ago. I am seeing my friends, dating, exercising, and more productive each day. You have given me a chance to spend the next 36 years of my life looking forward to tomorrow and not dreading it. I will never be able to thank you for all you have done. You and your wife are truly a gift from above. I look forward to sending you good news every day that I feel a bit better, both physically and mentally.

With all my love and thanks,
Traci B. (and her family)
Grand Haven, Michigan

March 21, 2007
Dear Dr. Ernest,
I am going to start out by thanking our Heavenly Father for blessing you with many gifts. You are one of the most caring individuals that I have ever had the pleasure to know. I feel blessed that I was led to you for treatment.
As you know I have suffered with severe jaw, facial, ear and eye pain for more than a year. I have been treated by at least 8 different physicians for my pain. You are the only one that took the time to really listen to what I was saying and to reassure me that there was help. Temporal Tendonitis, finally a diagnosis! With your help, I was able to narrow down past injuries that more than likely caused my tendonitis. It sill amazes me that a simple 30 minute Radio Frequency procedure can take away a year of constant pain. Because of your research, the RF procedure and your healing hands I have my life back.
I have been singing your praises for weeks now. I tell everyone I can about my treatment and what a compassionate person you are. I encourage anyone with any kind of facial pain to contact you. You are a pioneer in healing. It is obvious that your mission is to help others. I can't thank you enough. May God bless you and your family.
Respectfully yours,
Della S.
Kingsport, TN

Dear Dr. Ernest,
I am writing with deep gratitude for all that you have done for me. My facial pain had been getting progressively worse for more than seven years. At only 29 years old, I was seeing one doctor after another trying to figure out why I was in constant pain. I had tried everything that I could find; numerous orthotics, injections, acupuncture, massage, chiropractic, physical therapy, pain management. I am so thankful that I made the trip to Tennessee. I have never found a doctor more caring, compassionate, and devoted to healing pain. God has truly given you a special gift! You spent the time to listen to my story, sat with me and explained every procedure, and continue to check on how I'm doing.
I will encourage everyone I come across with facial pain to contact you. Thank you for truly caring! You are one of a kind. God bless you and your family.
Many thanks,
Autumn A.
Bremerton, WA

January 19, 2008
Dear Dr. Ernest,
I want to thank you for giving me the chance to be the mother and wife that I have yearned to be. Prior to seeing you in September, my husband and children had an absent member in our family due to the constant head, facial, jaw, and eye pain I was enduring. It is very heartbreaking to have beautiful children that you are unable to read to, play with, and care for as they deserve to be. I had seen multiple doctors and received a variety of diagnoses including SUNCT syndrome, chronic migraines, and atypical facial pain, however, the pain continued regardless of the drug therapies tried. I had been treated just as another person with the same story; being told that my facial pain was a secondary factor to my head pain. Due to my training as a speech/language pathologist, I frequently questioned, and ultimately disagreed with my neurologist's opinion. I believed that we had not truly found the source of my pain.
Desperate to find help for my pain, I continued to research more treatment options. At 2:00 a.m. on a Sunday morning, I stumbled upon your website. When I read characteristics of the conditions you treat, I knew you would be able to help. On Monday morning I called to schedule an appointment.
I thank you for seeing me so quickly and for the extensive time you spent with me discussing my symptoms, the cause of pain, and various treatment options. I found out that I had had a dislocated jaw for over a year; which had been missed and misdiagnosed by other professionals. You were able to relocate my jaw and the eye drooping and SUNCT attacks mostly disappeared. I appreciate you treating my condition conservatively and for the numerous calls monitoring my progress. A month later you decided I needed to be seen again to be evaluated in person and to consider the radiofrequency treatments. In October, you diagnosed me with temporal tendonitis and splenius capitus muscle syndrome and performed the radiofrequency procedure on both sites. It was such a relief to have more answers.
The radiofrequency procedures were truly amazing; the constant head pain that had me homebound and frequently bedridden was gone. I am still amazed when I think about how my life changed following the short procedures. When I returned to Missouri, you continued to call frequently to monitor my progress and give me suggestions. You even trained my local dentist in how to perform injections to assist with the healing of my jaw.
I truly believe that God lead me to you and I thank you for fulfilling His work. Your wisdom and prayers have given me the comfort and hope to continue to heal. I am now completely off all the anti-seizure and pain medications my other doctors were using to treat my conditions and I feel I have helped educate my doctors in what was truly causing my pain. I appreciate you always taking the time to listen and answer my questions when I call and I thank you for your continued phone calls and support.
Sincerely,
Michelle M.
Cameron, MO

To contact Ernest Clinic for an appointment, or for more information,
please call 865-430-1430 Monday thru Friday 9AM to 5 PM EST or email us at info@ernestclinic.com.
"To relieve pain is to do God's work."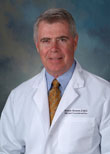 Edwin A. Ernest, III D.M.D.
Disorders such as Ernest Syndrome, Temporal Tendonitis, and Splenius Capitis Muscle Syndrome, have caused Dr. Ernest to be acknowledged regarding his discoveries. His work is referenced in Neurology, ENT Medicine, Plastic & Reconstructive Surgery and Neurosurgery programs and articles, dental literature, and is referenced on the internet in a variety of languages, and through Pub/Med, the influence of which is world-wide.