Are you suffering from chronic headache and facial pain, neck pain, or TMJ pain that has been unresolved by doctors and drugs?
Then you have come to the right place.
Helping those who hurt is our mission and purpose. If you are suffering, then Ernest Clinic may help eliminate your pain.
Dr. Ernest's published research has documented several Facial Pain conditions that have explained why people hurt. Those discoveries have lead to the dramatic elimination of chronic craniofacial pain for thousands, including his own wife. She was among his first group of patients who were diagnosed as suffering with Ernest Syndrome and Temporal Tendonitis. His documentation of those disorders would bring pain relief much closer to home than he had ever expected eliminating his wife's suffering which had affected his own family for years.
Chronic pain often interrupts relationships, careers, and lives in general. We are earnest at Ernest Clinic in helping you to return to a pain-free life.

☼ Dr. Ernest's Treatment ☼
Dr. Ernest's Treatment for 15% of cases simply requires a virtually painless injection of a local anesthetic mixed with a non-steroidal anti-inflammatory medication. The process is relatively simple and very effective for pain relief, often permanent. For about 85% of cases that have degenerative fiber injury, the radiofrequency outpatient procedure is the method of choice. With the radiofrequency procedure, the patient is awake and the affected area is numbed with local anesthetic so there is no pain during the procedure. Dr Ernest developed the radio frequency procedure for soft tissue injuries in 1982. Now it is used worldwide.
The procedure has been very safe since its inception in 1982, and in most cases does not have to be repeated, unlike with Botox injections.




Once again, I would like to thank your family for taking care of me on Friday. I didn't feel like I drove all the way from Chicago after meeting you guys. You guys are excellent.
Dr. Ernest saved my life in treating me. I suffered for 10 years in chronic pain throughout my twenties, which became severely debilitating through the years. After seeing over 15 healthcare providers regarding my situation and receiving failed treatments, I thought I was going to have to live in pain forever. Dr. Ernest treated me for temporal tendinitis, and thankfully I'm no longer in the pain ...
Dear Dr. Ernest,
I thank you and your wife Cynthia for all the time you spent with me. Your compassion, knowledge and understanding of pain and how destructive it can be is truly a gift from God. You are the first Dr. to really listen to me and understand....
Wanted to let you both know that since I was treated on October 28 I have not had any Ernest Syndrome pain! I thank God that He led me to your clinic...
Dear Dr. Ernest, You and your sweet wife, Cynthia, deserve a million hugs and a stream of thank you's...
I was diagnosed with Eagle Syndrome in 2004 and had the right elongated styloid process shortened. However, this surgery did not relieve pain symptoms in the region of the stylomandibular ligament. As time passed, my pain levels increased and the region of pain expanded to include my jaw, cheek, eyes, teeth, and throat (there was a feeling of something foreign in my throat that presented difficulty swallowing), ... Not one to give up easily, I found Dr. Edwin Ernest's website. I was fascinated - my symptoms were perfectly described! And better yet - there was a treatment!... I was treated with the RF procedure and the pain in my jaw, cheek, eyes, and teeth were virtually gone! ...
Dear Dr. Ernest,
I am so grateful for the treatment I have received from you for my injuries resulting from my auto accident...I cannot describe effectually the relief that I experienced with your very first diagnosis. I literally wept in your examine room, relieved to experience a release from the grip of pain for the first time in years...
Dear Dr. Ernest and Cynthia,
This note of gratitude to you is a couple of months overdue. My only excuse is that for the first time in well over 10 years I am "living life" and making up for every second lost!! ... The night prior to my first procedure was possibly one of the worst nights of pain ever. I knew I could not take much more and my husband had gone through enough anxiety and heartache too. We saw you late the following day – and to this day find it hard to believe that a couple of hours after my first procedure we were enjoying a lobster dinner together – and I was free of pain!!!!!!!!!! It was amazing – miraculous even!! I almost felt like an alien in someone else's body – but it was a great feeling.
Dear Dr. Ernest,
I am writing to say thank you for years pain free. I came many years ago all alone after 3 years of suffering, to Montgomery, AL and a hoping for a miracle. It came in through your hands. You see, I was in a rear end collision at a stop sign ...
Dr. Ernest and Cynthia,
The first 24 years of my life were filled with happiness, friends, and adventure. The last 12 years have been filled with depression, avoidance, and the most excruciating and debilitating pain I could imagine. ... Both RF procedures were a success and as I have stated many times it seems like I am coming out of a coma ...
Dear Dr. Ernest,
I am going to start out by thanking our Heavenly Father for blessing you with many gifts. You are one of the most caring individuals that I have ever had the pleasure to know. I feel blessed that I was led to you for treatment As you know I have suffered with severe jaw, facial, ear and eye pain for more than a year...
Dear Dr. Ernest,
I am writing with deep gratitude for all that you have done for me. My face pain had been getting progressively worse for more than seven years...
Dear Dr. Ernest,
I want to thank you for giving me the chance to be the mother and wife that I have yearned to be. Prior to seeing you in September, my husband and children had an absent member in our family due to the constant head, facial, jaw, and eye pain I was enduring...
We're sorry, Dr. Ernest is not accepting any new patients at this time.
"To relieve pain is to do God's work."
Don't just live with the PAIN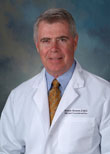 Edwin A. Ernest, III D.M.D.
Disorders such as Ernest Syndrome, Temporal Tendonitis, and Splenius Capitis Muscle Syndrome, have caused Dr. Ernest to be acknowledged regarding his discoveries. His work is referenced in Neurology, ENT Medicine, Plastic & Reconstructive Surgery and Neurosurgery programs and articles, dental literature, and is referenced on the internet in a variety of languages, and through Pub/Med, the influence of which is world-wide.